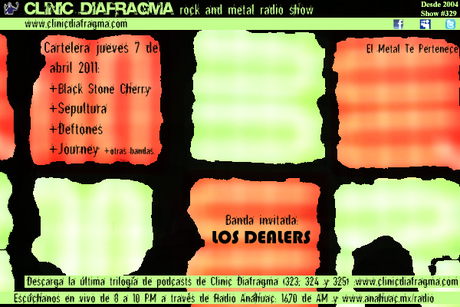 Track list:
1)Caifanes- perdí mi ojo de venado.
2)Jane´s Addiction- stop.
3)Journey- be good to yourself.
4)Joan Jett and the Heartbreakers- fake friends.
5)Kamelot- the great pandemonium.
6)Deftones- digital bath.
7)Sepultura- territory.
8)Evocation- psychosis warefare.
9)Semargl- tak, kurwa.
10)Lightning Swords of Death- the extra dimensional wound.
Banda invitada:
11A)Los Dealers- tu ausencia (lo mejor).
11B)Los Dealers- sin futuro.